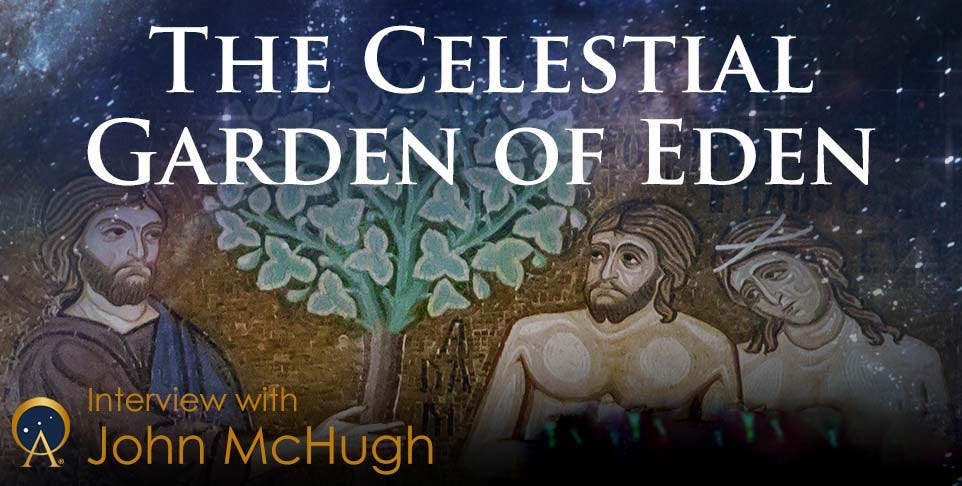 The Celestial Garden of Eden
Interview with John McHugh
The historical existence of the Garden of Eden (Genesis 2:4-3:24) remains a mystery. The Hebrew text depicts the Judaic deity, Adam, Eve, and the villainous Serpent interacting within an intimate setting—Adam and Eve hearing God's footsteps as he strolled through the Garden, then hiding from his sight, the Deity's multiple conversations with the first man and woman, and the Serpent's face-to-face dialogue with Eve. Yet the notion of imminent proximity is contradicted by geographical data in the same passage.
Eden's sole river branches into four tributaries whose localities are verified by later Old Testament passages. The river Pishon winds through Havilah, which is Arabia; the Gihon river meanders through the land of Cush, the Hebrew word for Ethiopia; the Tigris flows east of the Assyrian religious capital at Asshur, and the renowned Euphrates courses through Babylonia. The circumstance is further confounded by the fact that the Arabian Pishon and Ethiopian Gihon rivers are never mentioned again in the Bible. And here lies the mystery: How did the characters in the Garden of Eden manage to remain visible and audible while simultaneously occupying terrain that spans 1000 miles? And how did two enigmatic rivers, the Pishon and Gihon, spontaneously materialize in Eden?
Watch with a 7-day free trial
Subscribe to Ancient Origins UNLEASHED to watch this video and get 7 days of free access to the full post archives.